Posted By WKF SANDA on June 17, 2019
WKF NETHERLANDS president Mr. Sijou VAN DER SPEK announce next great Kung-Fu seminar in: Hugo van Voorneweg 39, 3218 VE Heenvliet, Niederlande on July 7th. For further information contact directly Mr. Van der Spek by mail.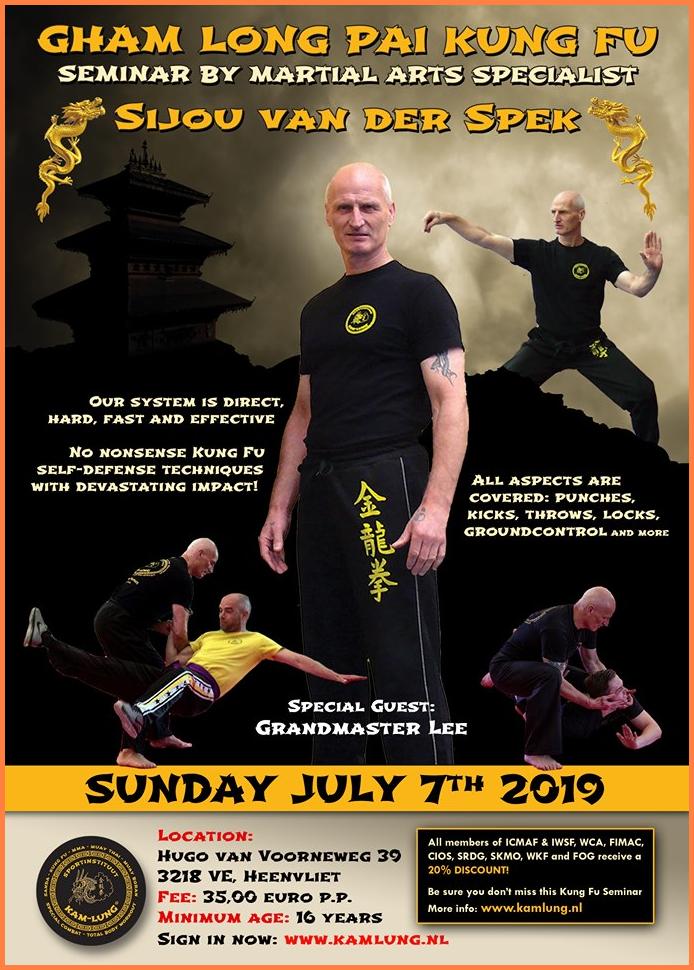 Introduction
The Gham Long Pai Kung Fu is a kung fu style, developed by Sijou van der Spek from the Netherlands. He was born on the 20th of April 1958 in a small village called Heenvliet, near Rotterdam. He was already interested in Martial Arts as a young boy. So, he started his Martial Arts career with practicing judo at the age of six. Inspired by the big movie star Bruce Lee, he got more and more curious about other Martial Arts styles. Bruce Lee was besides an good actor also an excellent athlete, one of the best of his time. And it is Bruce Lee who was going to determine the Martial Arts path of Sijou van der Spek.
The basic/foundation of the style
Sijou was curious very about different Martial Arts Styles, especially the Asian styles. He decided to practice and learn as much as he could and started with Kyokushinkai Karate, Shotokan Karate and Shaolin Kempo. In the late seventies, he met Grandmaster S.B.Lee, a Kung Fu master from Maleisia who settled down in Rotterdam. At that time, Master Lee was teaching the Shaolim Kung Fu style. Sijou went as much as he could to Rotterdam to learn from the Master. In the early eighties, caught by the Budo spirit, he decided to become a teacher himself. He rented location in the sportshall of his hometown Heenvliet and began to teach for a group of friends.  
Development of the style
After he started the gym, he decide to learn and acquire all the certificates and licenses he needed. A journey of gaining knowledge and practicing  different kind of Sports began.
He started with his license as "Basic Sportsintructor A" in 1982 and never stopped. Up till now, he is still learning. He practiced different kind of Martial Arts and this is still visible in his style. He learned from the best teachers and fighters over the years. He managed to combine all the best of different styles and created an effective and unique kung fu style with a lot of attention for self-defense techniques, trained in a realistic way. In the early eighties, the style he created was called "Tatsu sobudo". Because of his interests in the Asian Styles, especially the Chinese Styles, a Chinese name was given to the gym as well as the style. It became briefly : "Kam Lung"  (Golden Dragon).
Gham long Pai Kung Fu
Gham long Pai Kung Fu has a lot of Eastern influences like: Shaolim Kung Fu, Kempo, Choy Lee Fat Kung Fu, Yi Hsin Tao, Mok Gar Kung Fu, Kyokushinkai Karate and Special Combat . Besides practicing the traditional  forms of Martial Arts , Sijou has also learned from the  modern streames of Martial Arts over the last few decades.  Sports like Mix Martial Arts, Brazilian Jiu-Jitsu and Grappling gain a lot of popularity.  To learn all aspects of self-defense, the Ground Sports are inevitable. You have to learn to defend yourself standing as well as on the ground. So, Sijou started in the early nineties with Pancrase (Bas Rutten) and MMA. He also got his diplomas  for Kick and Thaiboxing and learned Muay Boran. In 2007, Sijou went to Beijing China to learn Shuai Jiao. Besides that, he also praticed Pangamot, Escrima kali arnis, Phillipine Knife Fighting and off course the style of Bruce Lee: Jeet Kune Do. From late Master Wang Kiu, he learned Wing Chun Kung Fu.  
As the society became more and more violent, Sijou wanted to learn more about violence and danger controle and went back to school at the SRDG of Shihan Verhoeven (police trainer). The style got more and more complete with all those elements.
Because of its variety, the style is suitable for all ages.  It is proven that regular training will lead to improvement of the physical and mental condition. Reaction, concentration, as well as balance and condition will get better. Also self -confidence will grow (The youngest practitioner of the gham long pai kung fu style was five years old).
Another part of the style are the amazing forms, armed and un-armed. Weapons like the staff (gwan), spear (cheung), steel fan (tit sin), tiger fork (Niu-Jiao-Dai Pa), steel chain whip ( Tit Lin), knife (dou), butterfly swords (Wu dip Dou), double-edged sword (Gim Dou), halberd (Kwan Do)and Horse Benche (Muhk Dang) can be trained.
All-round teacher 
As Sijou gained a lot of knowledge and experience over the years, he became more and more an all-round teacher than just a Martial Arts trainer.
He was asked to teach at Albeda College and NOVA College to lead up students for Security jobs. He also gave lessons to children at primary schools and is frequently asked for workshops and seminars for different organizations.
He also achieved diplomas for other sports like weight training/fitness, running,  and functional training so he is able to give the right support to athletes.
Successes national/international
Besides the self-defense techniques, Kam Lung also achieved a lot of success at national and international level. Medals were gained at World Championships in Bangkok Thailand 2010 and 2011. Also medals were gained at European championships as well as World Championships in both forms and  fighting. Athletes of Kam Lung Gym took part in the European Championships in Bregenz in 2013 and World championships in Prague in 2014.
In 2017, the European championships of the WKF (World Kickboxing Federation) was held in Santorini, Greece. Five athletes took part. A total score of 11 medals were gained. At the international fight event, held in Spijkenisse  in Octobre 2017, the Netherlands, two of his own fighters won by knock outs. Last year (2018) he accompanied the Chinese delegation of fighters at Glory in the Netherlands.
Sijou van der Spek will be the host of the next European championships of the WKF in 2021. Besides  teaching, he is also manager of the Kam Lung Pro team. The team consists over more than 135 athletes worldwide.
Present day
At this time, Sijou has his own Gym at home town Heenvliet, the Netherlands. He teaches the Gham Long Pai style for more than 35 years now and is still learning from his teachers: Grandmaster S.B. Lee (Yi Hsin Tao Kung Fu),  Grandmaster F. Stroeven (Pilipino Martial Arts & SCS System), Shihan L. Verhoeven (Police self-defense & Arrest techniques) and Master C. Mok (Mok Gar Kung Fu).  He spent a lot of time to improve and innovate the style.  It is continuously in motion and will not stop to develop. He will never stop learning. For the last 18 years Sijou is also very active in shooting sports.
Besides being coach and trainer, he likes to compete in Running events, Obstacleruns and Survivalruns. He trains almost daily in his own gym to stay one of the fittest men of his age. Music and to collect items of Bruce Lee and Elvis are also hobbies of Sijou.
Sijou van der Spek started more than 30 years ago as a figurant in video clips and various movies. He participated in several clips and movies like: music clip with the famous Dutch singer Robert Long, as a swordsman in the children's movie the "Red Swan", in the Candid Comedy series of Veronica TV, in the famous movie Who am I (Jackie Chan), in the Dutch movie "Bende van Os" and the Dutch Tv serie "Fightersheart".
He was in one episode of the Dutch "Utopia" and the new Dutch TV serie "Keizersvrouwen". The latest experience is as a fugurant in "Baantjer". A Dutch crime movie which is in April 2019. He is still waiting for an offer in a real big movie.
Sijou is also a representative of different federations. He is World President of the F.I.M.A.C and WCA, the Dutch President of the WKF, member of the Dutch Federation of Martial Arts (FOG) and representative member of ICMAF & IWSF.
If you are interested in seminars you can contact Sijou van der Spek (Kam-Lung) the Netherlands.
Check : www.kamlung.nl or send a mail to: info@kamlung.nl
On the  July 7th 2019,  he will give the next seminar of this style at his own gym in Heenvliet. For more information send a mail to the address above.
website: www.kamlung.nlwebsite: www.thechallengerun.nl
email: info@kamlung.nlFacebook: www.facebook.com/sijou.vanderspek